Capital: Manama Population: 600,000 Religion: Islam
Muslim Background Believers: One small fellowship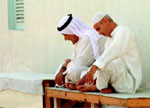 Bahrain, situated in the Gulf between Iran and Saudi Arabia, is made up of over 35 islands, the major ones connected by causeways. Iranian rule of what is now modern Bahrain lasted for 180 years until they were expelled by the Kalifa family who took control in 1782.

Bahrain was a British protectorate for more than 100 years before regaining its independence in 1971. Formerly a pearling and trading center for the Arabian Gulf with a tradition of independence, it is diversifying from oil into banking, aluminum production and tourism.

Bahrain was the site of the first Arabian Gulf oil well. Ironically, it will be the first Gulf country to run out of oil. Bahrain, compared to its neighboring countries, is poorer with significant unemployment.

Bahrain became a Kingdom in 2002. King Hamad is overseeing a gradual transformation, with the new government modeled on the United Kingdom two-house parliament system. Bahrain is an oasis of freedom compared to the surrounding countries which have restrictive laws. Great numbers of Saudis and Kuwaitis flock to Bahrain every weekend because of greater personal freedom. While open evangelism is not allowed, Christian expatriates have found opportunities to worship and minister in Bahrain.


PRAYER POINTS
Monday - Pray that Jesus would reign over the spiritual authorities that seek to blind, bind and confuse people, and that the attraction of worldly pleasures would pale.
Tuesday - Pray for the King, Sheikh Hamad bin Isa Al-Khalifa, and other authorities in Bahrain. Pray that the Lord would give them wisdom to lead their people into peaceful political and social development.
Wednesday - Pray for the expatriate churches in Bahrain - Indian, Filipino, Western and African. Pray for a renewed vision of God's purpose in bringing them to Bahrain.
Thursday - Pray for the Arab fellowships, which include some locals. Pray for unity and cooperation among them. Pray for leadership to help them build up one another.
Friday - Pray for the isolated Bahraini believers who do not regularly attend church. May the Lord help these believers to see the importance of meeting together.
Saturday - Pray for believing Bahraini husbands and wives to grow closer together as they serve Christ. Pray especially for the youth in view of many economic frustrations.
Sunday - Pray for the living witness of the Christian establishments in Bahrain - the churches, the Christian bookstores, the mission hospital and the mission school.